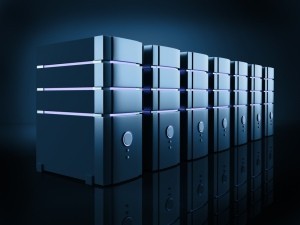 The VPS in VPS hosting stands for Virtual Private Server. When someone is using shared hosting, all the sites share the server, the space and the processor. A virtual private server is when one server is partitioned out into separate spaces. Each space operates just like a server and will have its own dedicated space and RAM, but the processor is still shared.
With shared hosting, if something goes wrong with a server, all sites are affected but with VPS hosting, only the site with a problem goes down. If a site on shared hosting is the victim of a DoS attack, it can slow or even bring the rest of the sites on that server to a screeching halt. With a VPS environment, no separate partition can access the resources for the entire server so a problem on one VPS won't affect the rest of the sites.
If you're just starting out or only plan on a single personal website, VPS hosting is not something you'll ever have to worry about. An inexpensive shared hosting account will easily take care of your needs. However, if you are planning on doing a number of sites or one huge site that gets a lot of traffic, then eventually you will outgrow your shared hosting capabilities.
Many people build websites with mainly static HTML pages and if most of your content is like that, you will probably never outgrow shared hosting as this type of content isn't very resource intensive. There are growing numbers of sites though that are producing dynamic content and are very interactive. If that's the case, shared hosting won't cut it for long.
Traffic is another consideration because traffic takes another of the resources – bandwidth. Obviously, there is only so much bandwidth available on one server and if you have a lot of sites on that server, they'll be pushing and shoving at each other all the time. VPS hosting also has a limit to bandwidth but the amount dedicated to just your block of the server is larger than with shared hosting plus you are the only one who is consuming that bandwidth.
For the webmaster, there is also the matter of managing the server. When choosing a VPS hosting plan, be sure to know your own capabilities in this area. If you are comfortable with managing a server environment, know how to update it and know how to configure all the various settings, then just about any type of VPS hosting will work for you. However, if the idea of managing a server has you cringing, then you should make sure your host offers a managed package (HostGator offers semi-managed and fully managed VPS hosting) for you that include the service level you'll need.
The other type of hosting we haven't covered here is when you purchase a dedicated server. Just as it sounds, that would be a server where your sites are the only sites on it and you can do pretty much anything you want with it. Not only would you have to do all the upkeep and management yourself, a dedicated server costs much more than either shared or VPS hosting. VPS hosting costs more than shared hosting, but not nearly as much as a dedicated server would be.